JIRA Software Cloud functionality has been recently reimagined and their roadmap is the feature that is getting now most crowd favor. Roadmaps allow teams to sketch out the big picture and visualize what's planned.
Last month, JIRA introduced dependency and progress for roadmaps.
Two outstanding features
Dependency mapping and progress visualization are the new features on the JIRA roadmap that help to be more effective in planning. JIRA also announced a third feature – hierarchy view, that is coming soon.
Map dependencies
Dependencies between pieces of work is an essential variable that should be taken into account while planning. Without them, it is rather difficult to understand risks associated with delivering a piece of work, uncover blockers, and make decisions on what's built and when.
Now JIRA Cloud allows mapping dependencies between epics on the roadmap to staying ahead of blockers. This visualization simplifies planning the best course of execution and communicates the rationale behind the plan to stakeholders to manage expectations.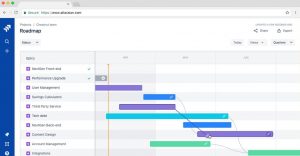 Tracking progress
Roadmaps without syncing with your team's progress look outdated.
If your team is moving fast, it can quickly become tedious to track each piece of work and what its progress is.
The new feature allows you to stay in sync with your team's progress on each epic, without digging for details on individual pieces of work.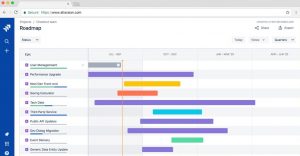 If you have doubts that these features will be useful and demandable and that a roadmap is really popular feature, then here are some proofs of the importance of any roadmap:
Why is a roadmap a trendy feature?
Any product roadmap leads a team to create a plan that integrates market and customer needs, product evolution and new technology introduction at the beginning of their journey. The roadmap performs as a guide for the team and allows it to recognize and act on events that require a change of direction.
Here are the key reasons for roadmapping:
A roadmap is a good plan that leads a cross-functional team to examine competitive strategies and ways to implement them.
Roadmapping helps teams to clearly explain to customers and stakeholders where they are going.
Roadmaps include an explicit element of time and help teams to make sure that they will have the capabilities at the time they will be required to carry out their strategy.
Roadmaps help to set more realistic and relevant goals.
Roadmaps identify gaps in product plans.
Roadmaps connect market data business strategy with product decisions.
Roadmapping helps to prioritize investments based on drivers.
Roadmaps let teams recognize and act on events that require a change in direction.
The roadmap is aimed to communicate business and product plans to management, all team members, customers, and suppliers.
Roadmaps, in general, build the development team, as they build a common understanding of the plan, incorporating all ideas from team members representing the many features involved in the development process.
JIRA's roadmap alternatives
If you are just starting out your work with a roadmap, then it's worth to explore some other companies' proposals. Here are some great options: