Planning your company's event can be a challenge. Choosing the location, sticking to a reasonable budget, tracking attendance, and making sure everything goes smoothly on the big day requires great organizational skills.
How to keep tracking everything? Sticky notes, Excel charts, calendars are fine in event management, but they're not going to save your sanity.
Monday blog introduces the solution that allows you to drill down into all the nitty-gritty details and helps to focus on the big picture.
Selecting the right tool, you can prioritize what's important, see how all the moving parts fit together and have the peace of mind that nothing's falling between the cracks.
Monday.com can be used by teams of all types and sizes. It is also used as a company event planning tool.
5 steps of event planning – all in one board
Initial event planning
Here you should identify the goals of your event, its audience, and the budget. These are all critical issues you need to sort out first. This template includes a checklist of all the most common issues event planners confront, but feel free to customize it and add your own.
Budget planning
It's all about money. How much will everything cost? Are you over budget or under budget?
Catering planning
Participants are going to eat something. Here's where you can track preferences, dietary restrictions, or anything else that needs to be considered before providing food and beverage.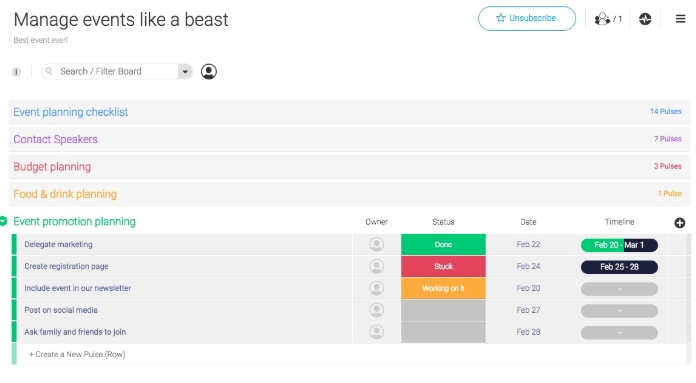 Promo campaign planning
If you plan it, they will come. But! Only if you promote it well first. Be sure to do whatever you need to do to spread the word about the event whether it's advertising, emails and social networks.
Role delegation
Make it clear who's doing what. You can assign ownership to people on your team via the "person" column. They get an instant notification and in a glance, it's easy to make sure that all your bases are covered.